Messages

402
Reaction score

3
Points

18
Website
About one year ago I installed three American Standard Champion toilets in a friends home, to replace three, cheap, builder installs. All three leak water from the tank and refill regularly and it's noisy. All three were installed within one degree level...what else would be pertinent to know? (The owner didn't register the toilets, so a warranty fix can't be pursued.) Is this a common problem? I've steered other folks away from the Champion model based on this experience and the fact that nobody I've asked (a plumbing supply store and a plumber) has an answer for what's wrong with the toilets. To replace a flush valve before one year seems absurd to me, but maybe there's a clue I'm not picking up on. Any ideas?
A. Kongslie Wed, 18 May 2005
I have 2 of these toilets - one is not installed because the first one (installed 2 months ago) has broken. The spring within the 'piston' on the inside of the flush mechanism fell out when a plastic piece it was attached to inside the piston broke. There are no parts available and I am thoroughly disgusted with the whole thing. Unfortunately it is installed and needs repairs - any suggestions on how to make that happen? V..S.French Tue, 26 Apr 2005
In December '05, we purchased the AS toilet model number 4260 (number can be found in tank). We followed the directions to install it...and then continued to tighten more than the directions said. We did this by having my husband push down on the tank while I tighten the bolts. This was the only was we could get the tank stung with the bowl. After a couple days the tank leaked a little and had to tighten it again. No more leak on that end. Than we have the clunk, I will try the advice given on this site about lowering the chain and let you know.
We also have the problem with the water LEAKING/RUNNING. I called AS and they said they will send a new type of gasket that "does not leak", (their words, not mine). Should be here in 10-12 days....no charge. Hope this fixes the problem.
In the future I plan to buy a Koler, my brother-in-law just had them put in his home the same time we did ours. Its quiet, no leaks, and works the way its supposed to. If all else fails, I'm going to become a plumber, AS will keep them busy forever....lol.
Kaylynn, "plumber-to-be-we'll-see" Tue, 5 Apr 2005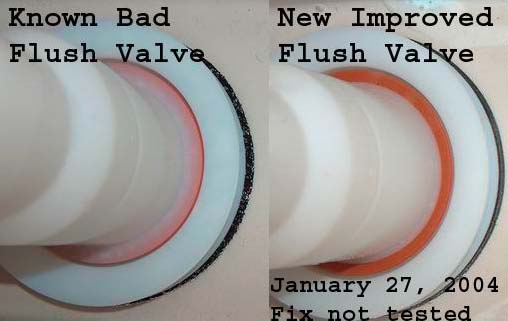 A new flush valve came out in January 2004, however there are reports of bad ones in March of 2005.
A new flush valve came out in January 2004, however there are reports of bad ones in March of 2005.
I installed 2 of these toilets, for a rental house. The clunk is terrible as is my huge water bill for the constant leaking from the seal which is constantly being re-seated by my plumber. The 1.6 gal flush was supposed to save me money, but now it has wasted 10 times what I thought that I would save. I think that I will just take them out and return them to Home depot for a different brand. Would'nt it be nice if American Standard paid for all of these plumbing installation costs.
WD South Padre. Sun, 3 Jul 2005
I wish I had read the reviews before I bought the Champion. The seal leaked from the first fill. The installer said it probably just didn't seat properly but that it would after a few flushes. It never did seal, refilling itself every 15-20 minutes. The wasted water and the constant noisy refill for hours made me just turn it off. The tank completely emptied itself through the leaking seal after the shut off. American Standard was contacted and said they would not replace the toilet as "it was their most popular model". The lamest response I have ever heard from any manufacturer. I took copies of the complaints from this site to Home Depot and at least they stood behind their reputation and are replacing it with another brand. GDA, 4-26-2005
THE CLUNKER, O' LET ME COUNT THE WAYS.
Yea! & Verily, it does not cloggy
But all the rest is at best doggy
Handle squeaks, no bushing on shaft
Red Seal leaks, too fragile for draft
Bead Chain breaks, just low cost junk
Waiting for rest of plastic parts to fail
Bring on the Class Action or
Better Business Refund
Donna Sat, 25 Jun 2005
As a plumber who has been installing toilets for 25 years (that's a lot of toilets). I have been fairly unhappy with the way most 1.6 gallon toilets flush. The power assisted toilets seem to work well ,but have had there share of problems. I have installed the Kohler toilets with a some what similar design. They are better than the average toilet, but no miracle. I think the Champion is a good step in the right direction. As with most things there will be improvements as time reveals the problems missed in production. One thing I always look for in a toilet is a large surface area full of water .To help absorb the need for an extreme rinse of the bowl after a bowel movement. Which is hard to find in a 1.6 gallon toilet. In defense of American Standard. I have had the experience that they stand behind their products .In order to have a great flush with 1.6 gallons of water .It will be hard to move it through the bowl with out making noise .Also remember that your success may be less than someone who install toilets on a regular basis. aquastatt Wed, 22 Jun 2005
We bought an American Standard Champion toilet - model 4260 with the new improved flush valve last year. It worked for several months but has begun leaking, the orange gasket on the valve comes loose every other flush. I didn't learn this until I got my water bill (which was almost double its normal $50). The toilet is in my son's bathroom and he just let it run. Needless to say, he now knows how to reattach the gasket, but it is a pain in the butt to do it every other flush. I called Home Depot and was told that I had to call American Standard to get a replacement gasket. I am not pleased.
Susan, June 19, 2005
Last edited: