I need 3 new Toilets for a problem-child large sprawling 1 story home, with 2 toilets that require 2 flushes for solid waste. I suspect poorly designed drain line routing and long runs to reach the road. The current VITRA 1.6 gpf problem toilets from 2006 otherwise have no leaks or other problems.
*** I like projects that involve tweaking to produce better than expected results.
I have spot read your Forum and realize that you prefer the Toto line of toilets for a straight out of the box for a satisfactory experience. I am also aware of the various complaints and workarounds concerning the Champion 4 Flush Valve. So, I would like your advice about which of my ideas would produce the best Flush volume and velocity required to overcome sluggish drain lines in this home. Also, I've checked the home, and there are no drainage blockages.
The following is my criteria for any toilet choices:
*Champion or Toto Brand
*1.6 gpf
*One or Two piece would be okay, but since I plan to perform all 3 installs, I probably should go with a less expensive Two-piece..
*Elongated only
*ADA or Standard is okay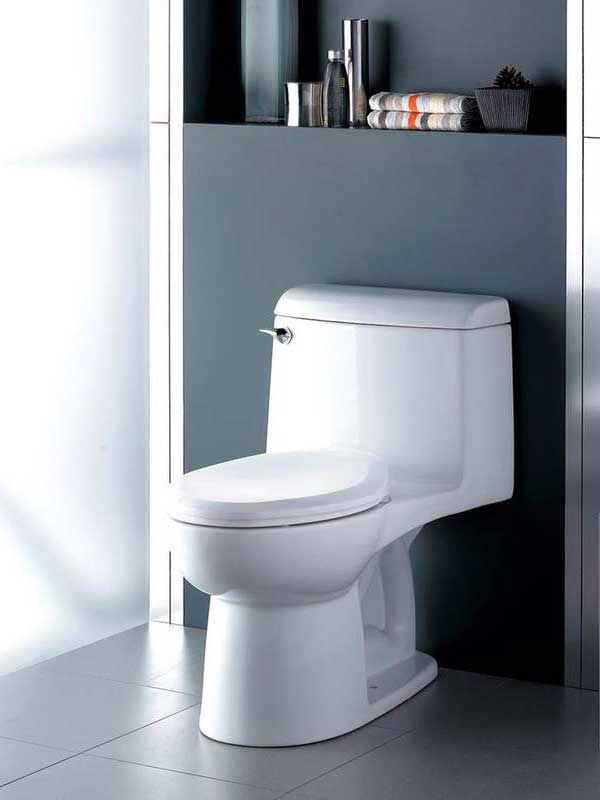 The following technical aspects are what I care about:
*The larger 2 3/8 inch Champion 4 trapway makes a lot of sense. A whole ¼ inch wider larger trapway with syphonic action can't be ignored.
*But I worry about the complaints and design of the Champion 4 Flush Valve. Its Flapper Valve seal is visually in my opinion much too elevated above the Tank Bottom.
* Also, since the Flapper Valve Seal is quite elevated, it definitely concerns me that the Flush Valve Fill Tube at 7" tall seems too short and is not adjustable.
*The above explains why there are many complaints about:
*Too much water left in the Tank after each flush, not being used to improve Flush Volume and Velocity
*Complaints about Ghost Flushing likely caused by the reduced water hight pressure above the Flush Valve Flapper Seal. (i.e. not enough pressure to hold it down tight once it becomes a little dirty).
*However, it seems that all of the above Champion Flush Valve issues can be overcome in order to take advantage of its 2 3/8 inch trapway, which it seems would provide a big advantage for problem situations LIKE MINE.
So Here are My Questions:
Question #1
: Which Champion 4, a One-piece version or a Two-piece version with Flush Valve modifications would be most advantageous?
Champion One-Piece Model:
*The One-piece Champion 4 Flush Valve appears in photos to have its Flapper Valve Seal a little closer to the Tank Bottom as compared to the 2 piece.
Question 2
: Is there a height difference between the Champion 1 piece and 2 piece Flapper valve seal??

*With the One-piece model, modifications would be limited to:
-Extending Height of Flush Valve Fill Tube.
-Changing out the Flapper Seal with a heavier rubber seal from Korky.
-Replacing the stock Water Fill Valve with a taller one if needed to match the taller Fill Tube.
-The One-piece costs around $525—more expensive
Champion Two-piece Model:
*The Two-piece Champion 4 Flush Valve Flapper Seal appears in photos to be even higher up from the Tank Bottom than the One-piece model.
*
With the Two-piece model, there would be additional possible modifications such as:
-The same ones listed above for the One-piece model, plus
-The whole stock Flush Valve could be exchanged for a large 3 inch version from:
*Korky
*Nuflush.com (newer company)
-Both the Korky and Nuflush versions allow for extending or adjusting upward to Fill Tube height.
-Both use heavier rubber flapper seals to prevent ghost flushing.
-The Two-piece has a big price advantage of only $249
Question #3
Concerning Champion Two-piece:
-Since everyone concurs that the Champion 4 Flush Valve tapers into a 3 inch Tank Hole Outlet, my specific question is:
*Question 3a:
Is the Champion Two-piece Tank Hole diameter the same as the other 3 inch Tank Holes from American Standard such as the Cadet 3 Tank Hole?
*Question 3b:
Would a Cadet 3 (two-piece) Flush Valve fit a Champion 4 (two-piece)?
Question #4:
If you still believe based on your experience that a Toto Branded Toilet would still produce a more effective flush than a Modified Champion 4, then do you have any positive experiences with the Toto Model 1.6 gpf models listed below and do you recommend it instead of the Champion 4 with modifications (I do not mind mods) and which Champion 4 would you pick for modifying.
-Toto model MS854114SG ultramax
, 1.6gpf,1 piece, elongated with special ceramic coating
-which also costs around $525 or more at the big box stores. or
-Toto model CST744SG Drake
, 2 piece, elongates with special coating, 1.6gpf for only around $400.00
- the 2 piece Champion 4 with modifications would still be much less expensive than the other choices
Any feedback will be greatly appreciated.
Thanks, and sorry for the long post.
Deej
Last edited: