Please bear with me - I am pretty handy but have limited plumbing experience!
We just purchased a very old home to find lots of problems. Shortly after moving in, we realized our upstairs sink did not have a p-trap. The previous owners just connected the sink tail piece to the wall with a flexible coupling and secured it with adjustable clamps. Looked something like this (sorry, don't have a picture of the original setup).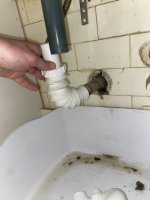 I took everything apart to begin installing a new p-trap and was able to see what was actually left in place. It looks like what is left is a broken trap arm?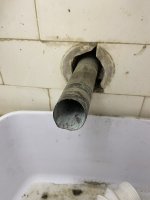 We are lucky in that the wall where the connections are is open and accessible. You can see the old metal waste pipe connections.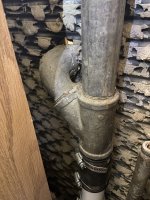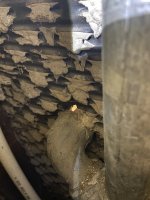 It's kind of hard to tell from the photos, but the broken pipe under the sink leads straight into the angled connection at the waste pipe. Doesn't look like it's connected with a nut or anything.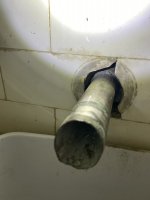 At this point, I hesitate to do anything without some more knowledge because I do not want to make the problem worse.
Can I remove the broken pipe by twisting it off and replace it with a PVC trap system? It doesn't look like there is a standard stub out with threads for me to add anything on to.
Or am I way out of my league and should call in the pros? And if this is the case, is there a temporary fix so we can use the sink until we can save money to hire someone?
Last edited by a moderator: