Messages

2
Reaction score

0
Points

1
Location
Hello all, long time lurker, first time user/poster, I appreciate all of the posts I've been able to read so far as they have helped me out with numerous other smaller projects. This one is a little bigger, and leaves me with some questions.
I'm replacing a cast main stack that was rotted out at the bottom and wanting to plumb a bathroom on the second story, and add a half bath on the main level. Attached is a mockup of my plan.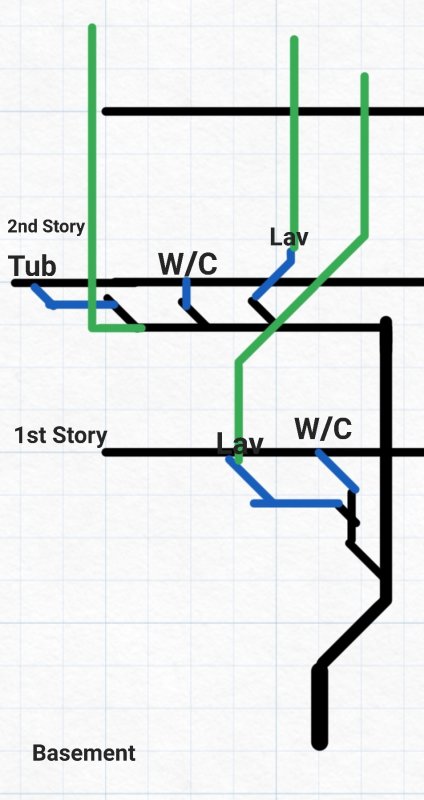 Green is Venting, any black lines coming off at a 45 degree angle indicate a wye fitting (with the exception of the bottom most 45 degree offset) All is plumbed in 3 inch with the exception of the Lav's, Tub and vents which are 2"
My first question is, can the main vent/stack take make that horizontal (with proper slope) or does a "main stack" always have to be vertical.
Not specific to this design, but I guess I'm a little curious/confused as to the purpose of the main "vent" if fixtures are vented by other means, is the "main stack's" primary purpose to move waste down from upper levels, or is the vent at the "end/top of the line" so to speak necessary.
Which brings me to my next question. Do I need the vent on the far left, or can the toilet and tub be vented through the Lav. If the vent is needed, should it be 3" or can it be 2"?
I tried my best to depict it in my plan sketch, but the position of the Lav on the second story, is "downstream" of the Wye, with some elbows I was able to come up with a solution that I think would work and meet code.
Which brings me to my final question of the night, would this be acceptable as the waste would be running "backwards" to the wye and would have to make a near 180 degree turn, is there a limit on how many elbows I can use to make this work?
Thanks in advance for any input!