Messages

9
Reaction score

0
Points

1
Location
Hi, first off, I'd like to thank this forum for all the plumbing advice I've read as a guest. I haven't been able to find an answer to this particular question so I finally joined.
I am making a heat exchanger for my shower trap arm. I have a 2" section of copper drain pipe that I want to coil the incoming water supply line around, before the supply feeds into the 3/4" inlet of my on-demand water heater. I already tried and failed at coiling 3/4" soft copper tubing around the 2" pipe. I see in the commercially available ones, the supply line is split into multiple smaller lines which has the advantage of more surface area for contact in addition to the smaller diameter tubing being more workable. I'm considering this approach but am wondering if there are any implications for downstream pressure or restricted flow when splitting a line into multiple smaller lines and then merging them back together before feeding into the water heater. According to the table linked below, splitting into two 1/2" lines would maintain the same cross-sectional area as the single 3/4" line. The commercially available ones split into four lines but according to the table linked below, there is no diameter of pipe that will quadruple to match 3/4" cross sectional area. Is it better to have the cumulative cross-sections of the coiled lines exceed that of the 3/4" pipe so the coiled volume acts as a sort of reservoir?
I'm leaning towards two 1/2" lines because the tubing and fittings are easy to find at it would only require one tee on each end. Lastly, can anyone comment on whether it is reasonable to expect to coil 1/2" soft copper around a 2" diameter (wish I had asked about 3/4" before trying it).
*cross-sectional areas were taken from this chart:
Copper Tubing Size Chart ASTM B-88 | Engineers Edge | www.engineersedge.com
thanks, ari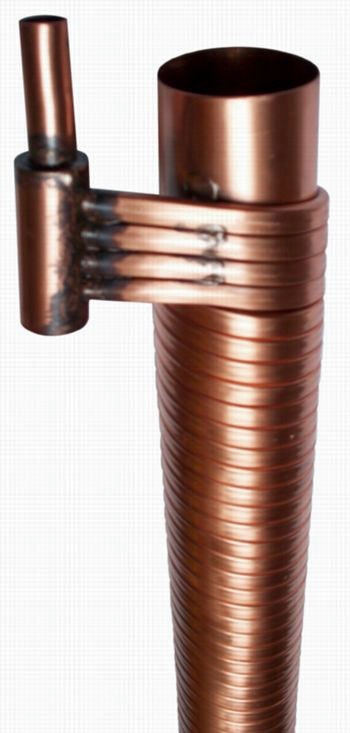 Last edited: