Hello,
Recently purchased a house and in the process of redoing the kitchen. The existing kitchen sink had the waste arm running at an angle through the adjacent cabinet, connecting to the main drain with a santee. We would like to move this waste arm so that it is not in the way, as a dishwasher will be going back in and the pipe would obstruct it. What would be the proper way to make the connection from the P trap to the waste pipe? We are planning on installing a garbage disposal, so at the current height I believe the existing santee is too high. Currently, the sink, bathrooms, and washer/dryer all have their own vent lines, so this is a direct vent for just the sink/dishwasher, with all other waste downstream of this. The beam stack to the right of the drain line has a structural 3x3, so I believe it would be too narrow to drill through.
The new sink cabinet will start to the right of the wood beam stack, centered under the window, so the drainage connection would need to make it to there. The hot/cold water lines will be relocated to the right slightly.
I've attached some pictures of the before/after (the drain pipe is plugged for fumes now). Sorry for the markups, I'm unable to get rid of them, but the old sink had the waste arm slope down after the p trap, and then through the cabinet and into the wall.
This is in NH (moved from mass recently).
Thanks for any help,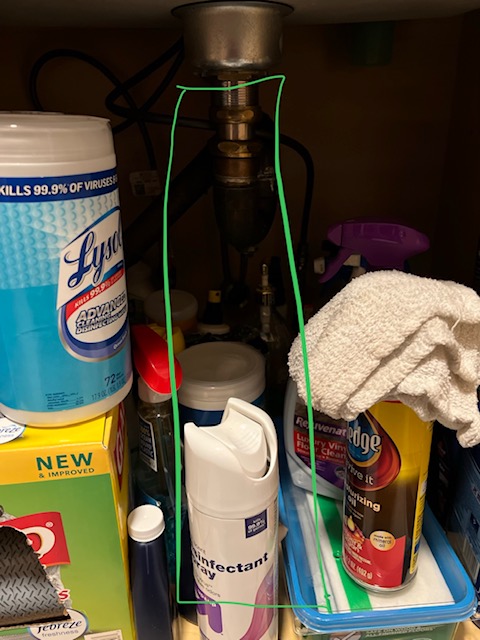 Last edited: