Messages

3
Reaction score

0
Points

1
Location
Hi all,
Novice here. I looked at various threads on this topic, but I'm still confused on how best to tackle my issue.
I want to remove the brass delta adapter to put a delta slip on tub spout with a plastic insert with o-ring and set screw. I do not want to just get a different spout that fits this adapter. After 15 emails with Delta, they still wouldn't give me a list of spouts that use this adapter and I want to use the one that came with the trim I
Had already purchased.
my problem: if I cut it off, the pipe will only be about an inch long, which will be too short to reach the o-ring.
I attempted to unsolder the spout yesterday with a Bernzomatic propane torch, but got nowhere. The torch freaks me out a bit (the tub and surround are plastic) so maybe I didn't heat it long enough? Should I apply flux to desolder? Also should I clamp the wrench and try to loosen the fitting while hitting it with the torch, or remove the heat and then try? I assume if I do attach the wrench it's likely to get too hot.
if I do cut off the adapter, can I solder a straight copper fitting on to extend the pipe or will this lead to a poor seal with the o-ring? the fitting would be right where the o-ring needs to seal.
would it be easier to cut the pipe from behind (3rd pic) above the 90 degree fitting and just replace the whole thing? I have access, but not enough space to solder safely. You can see in third pic where previous install charred the wood and there's only about six inches between that opening and the sink to work in. Can I use a compression fitting or some other type of fitting there? I'm afraid it gets jostled too much to keep the seal (copper pipe is a bit loose).
any suggestions are welcome.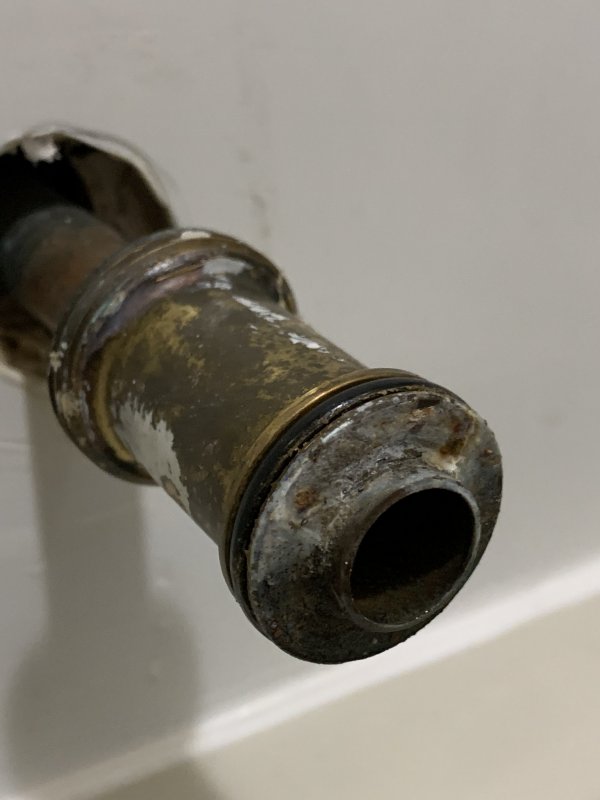 thanks
KDW