Messages

8
Reaction score

3
Points

3
Location
Hello all,
My wife and I are purchasing a home and I am hoping to install a utility sink into the basement next to the washer. I'm familiar with the basics of plumbing (I work in construction) but I am not a plumber by trade, and so I'd appreciate some advice on the proper way to reconfigure the drainage and vent for the sink and washer to run into the main drainage stack. The issue I'm facing is that the current washer drain is quite high up and will need to be moved down to allow a proper vent above. But, I'm not entirely sure of the best way to go about doing this. I'm thinking for ease, I should simply drain the washer INTO the sink once its connected. Please see the two attached photos, one of which I have diagrammed.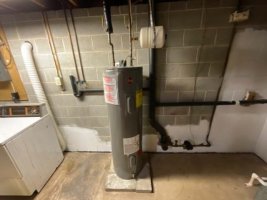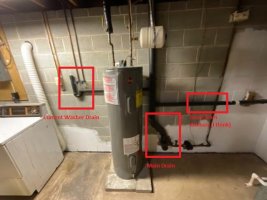 Here is what exists and what I'm proposing (green are modifications) which I could use feedback on.
Thank you for any tips or helpful guidance you can provide!