Messages

25
Reaction score

0
Points

1
Location
Hi, all,
This forum has been very helpful over the years and while I mostly just read, this time I need some help. We moved into a house with a collapsed kitchen/laundry line. I excavated it and the 3" CI pipe has no bottom. I had a plumber come out and he said they could clean it out and line it, but since it's $2500 just to set up the machine, I decided to have the whole 4" CI main lateral lined at the same time. Since it's difficult to make changes after it's lined, my better half and I decided to make some changes to the 3/4 basement bathroom. So I excavated all of that and found the lines below (marked Current). The diagrams are just for the bathroom, the kitchen/laundry line is going to be lined in place and joins into the main lateral farther down.
I plan to replace all the CI underground with Schedule 40 PVC, move the toilet to the right 12 inches to give it more space, and change one of the drain lines to connect in a different place so I don't have to excavate more concrete in the room beside the bathroom. This plan is marked Proposed. The Basement/1st Floor designations identify what level the drain is servicing.
Does this more or less look right? Any advice you'd give? It "seems" fairly straight forward as long as I get the slope and fittings right, but I am eager to hear any suggestions you have or pro tips for this work.
Many thanks for any help you can offer!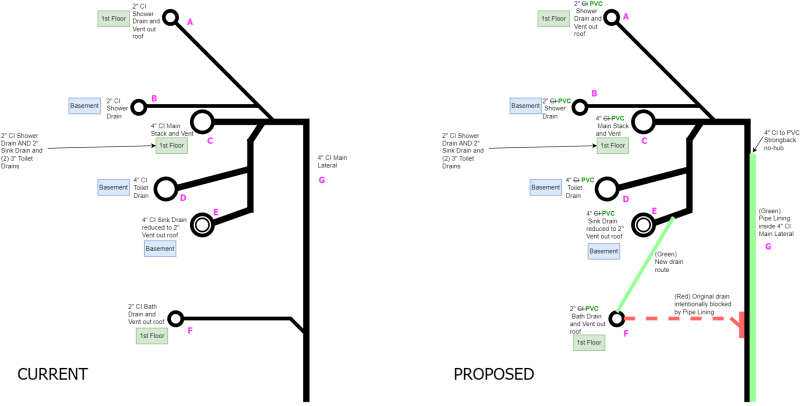 Last edited: