Messages

358
Reaction score

0
Points

16
Location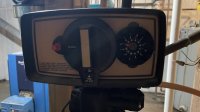 Former city boy has moved into the country and the new house has a well/septic.
We had a very good/honest well guy come out couple years ago when we bought the place. The pressure tank failed so we hade a new one put in. The sinks/toilets were all orange iron stained when we moved in. That's no longer the case. Turns out the previous lady who lived here had unplugged all the water treatment systems and wasn't adding salt to the softener. All the original equipment is back in service.
Fast forward and I want to improve a couple "issues" we have. I currently add about 3-4bags of salt per month.
I know we have iron but not really sure if we have hard water or not. I have 2 "tanks" w/ Fleck 5600 mechanical timers. They back wash every day or so and since it goes to my sump and outside I can see it's where all the RUST/Iron goes. I know i have a brine tank, but not really sure what the other tank is. The softner has a tag that says "This unit equipped" with a turbulator for rust & iron removal"
Problems:
1.) Sulfur smell in showers. Based on research this may be related to hot-water, but can't be sure as our indirect tank doesn't have an anode rod.
2.) We still get iron particle/specs in our master shower. Kind of like black pepper but brown/rust colored.
1.) What is the other tank that's not the softner?
2.) Is this the best way to remove iron/rust?
3.) How do I know it's working? It consumes the salt I put into the tank.
Pics