So, I installed a Moen drinking-water faucet a couple weeks back, on our brand new Beverly Blue quartzite countertops...Yesterday, while straightening up for a party, I noticed a dark ring around the faucet. The ring is not unlike some other natural patterns in the quartzite, so no one was paying this ring any attention as it grew. Its well over 6" in diameter now. the round nature of the "stain" is clearly being caused by some interaction with the faucet. I suspect it was lubricant on the Moen-included O-ring for the decorative trim piece that is at the bottom.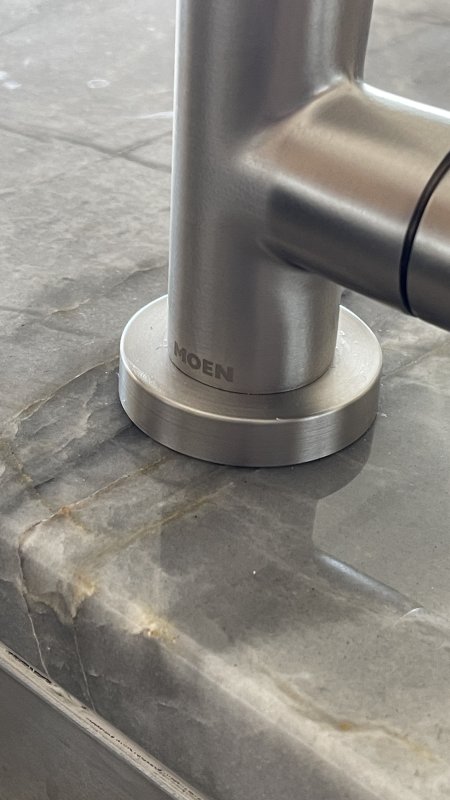 Advice needed: Is this removable? Did Moen ruin our countertop? I can buy another O-ring, or perhaps clean this one with alcohol or something...
Help. As soon as I remove the stain, I will also be sealing the entire countertop...which is something I've learned our fabricator and builder did NOT do.
Thanks in advance for any guidance!!
UPDATE: We removed the faucet...which resulted in my RO system spewing a lot of water under the sink area. Once we got that cleaned up, we headed for brief shopping trip and came back to a much larger stain, including one around the kitchen faucet.
I'm now thinking the O'ring was not "sealing" the hole in the countertop....and water soaked past the O-ring and in to the unsealed edges of the hole. Then, when I sprayed water underneath, I soaked the stone from below, and it soaked through to the surface as well. Does this sound probable/feasible to you all? It spread way to fast to be oil weeping in to the stone...
I'm going to try a small space heater under the counter to speed up evaporation...if the top is sealed as it should have been, the only way water can evaporate is from underneath, right?
Jeff
Last edited: