Messages

5
Reaction score

1
Points

3
Location
Long time reader, was a big help with the kitchen I redid about a decade ago now, but haven't needed to ask a Q until now.
I'm having an issue with either the laundry sink or (more likely) the stand pipe for our clothes washer, we occasionally get sewer gas in the room, but I couldn't figure out the pattern/cause until the wall was opened up. It looks like it's the lack of correct venting on the standpipe (and that it's all 1.5" ABS.)
Originally the vertical pipe would have served only the kitchen sink and dishwasher on the floor above (and maybe a basement sink). This was changed at some point in the past, when the clothes washer and dryer were moved from the main floor to the basement. From reading a bunch of threads over the past couple of days (Thanks Terry for your picture on the ideal laundry setup,) to me looks like a couple of issues with the way it was done:
1) S-trap on the stand pipe
2) No vent on the stand pipe before it drops vertically
3) Undersized stand pipe & pipe below 1.5" instead of 2"
4) I'm not sure what buried AAV was doing with where it is installed, right idea in concept, but wrong execution?
This is the current situation for reference: (the sink cabinet goes over the floor cleanout, and the clothes washer is just to the right, but it's moved out of the way)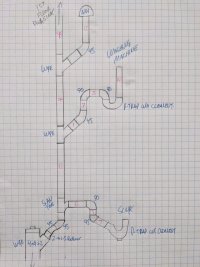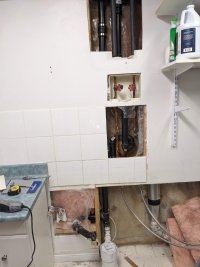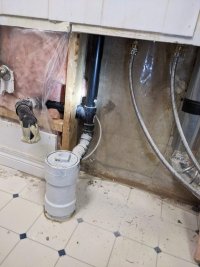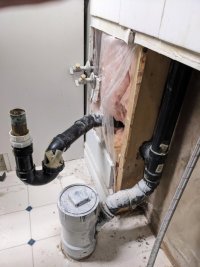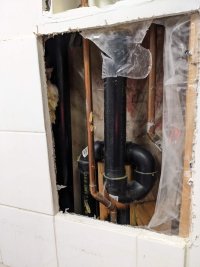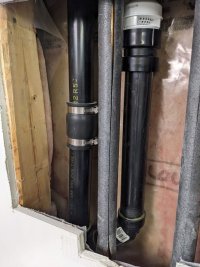 Proposed solution: (any obvious mistakes, or things to look out for here - I'll be removing the existing AAV & standpipe along with their wye's)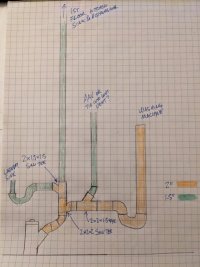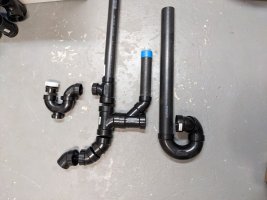 I'm in Mississauga, Ontario, Canada - which falls to Ontario as far as what I could find, the National plumbing code of Canada 2020 ed, was more detailed, so:
Looking at the section on wet venting (table 2.5.8.1) it talks about the total hydraulic load on the vent, and 2.5.8.1.2 says the most downstream fixture shall not be included.
Fixture units: (5 total)
Sink 1.5 (1st floor - dry vent)
Domestic dishwasher, no load when connected to domestic sink (1st floor - dry vent)
Clothes washer: 2 (shall not be included as it's the most downstream fixture)
Laundry tray 1.5
That leaves only the laundry tray at 1.5 units, which is less than 2 from the table, so I should be able to use the 1.5" vertical ABS to the first floor as a wet vent to eliminate the AAV, right?
Reading through Wet venting 2.5.2.1 - all of the other requirements are met. But have a question around 2.5.2.1.f - on what is meant by "the total hydraulic load does not exceed the limits from table 2.5.8.1" - am I counting all the fixtures without the exceptions: 1.5+2+1.5=5, or only after the exceptions - so just the laundry tray at 1.5? (I guess another way to ask, can I eliminate the AAV, by using a wet vent for the clothes washer branch?)