Messages

6
Reaction score

0
Points

1
Location
I have no intention to re-open a well discussed issue of rubber specks/flakes in hot water; however, the solutions mentioned previously either did not work or were not applicable in my case. I had been battling those flakes for some 5 months before my heater (Rheem XG50S06PV36C0) finally leaked. I replaced all rubber outside the water heater to no avail until the final bucket of it was retrieved during re-installation (image below). The new replacement heater produced clean hot water for about 3 weeks, and then flakes came back.
It seems that both explicit and implied consensus among pros is that there is no possible rubber inside the inner tank. What if there is? Recently all water heater manufacturers reduced warranty to only 6 years. Why? Is there a reason? Is it possible that they invented a cheaper manufacturing process using a sealer that does not last over 6 years?
My question to the community is if anyone tried to see how bottom caps are attached on the inner tanks of the newer water heaters? There are blogs and movies out there on how water heaters work, how to replace nipples and supply lines, how thick the insulation is, etc.; however, nobody seemed to pay attention to how the inner tanks are actually constructed. As a clue, I sketched two options: (1) The bottom cap is welded to the main cylinder: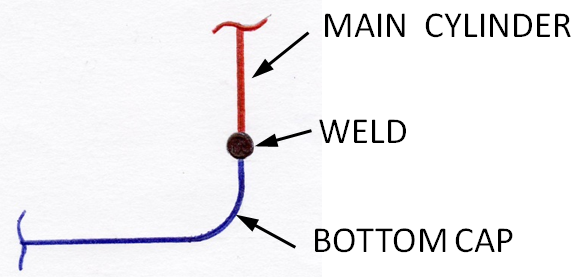 and (2) The bottom cap is rolled to the main cylinder similar to a lid on a tin can:
The second one will need a sealer bead. If the sealer disintegrates, it may expel flakes to hot water.
If anyone has pictures of the bottom cap seams cut open on the newer tanks that leaked prematurely, please post. Based on my experience with Rheem, I have about 2 years to research on this subject and find a rubber-free tank.
Thanks.