Messages

11
Reaction score

0
Points

1
Location
I'm renovating a 1928 bathroom and I've got it stripped down to bare studs, joists, and rafters. The first image shows the studs, joists, subfloor, and the old DWV along with fixture locations (which I plan to keep):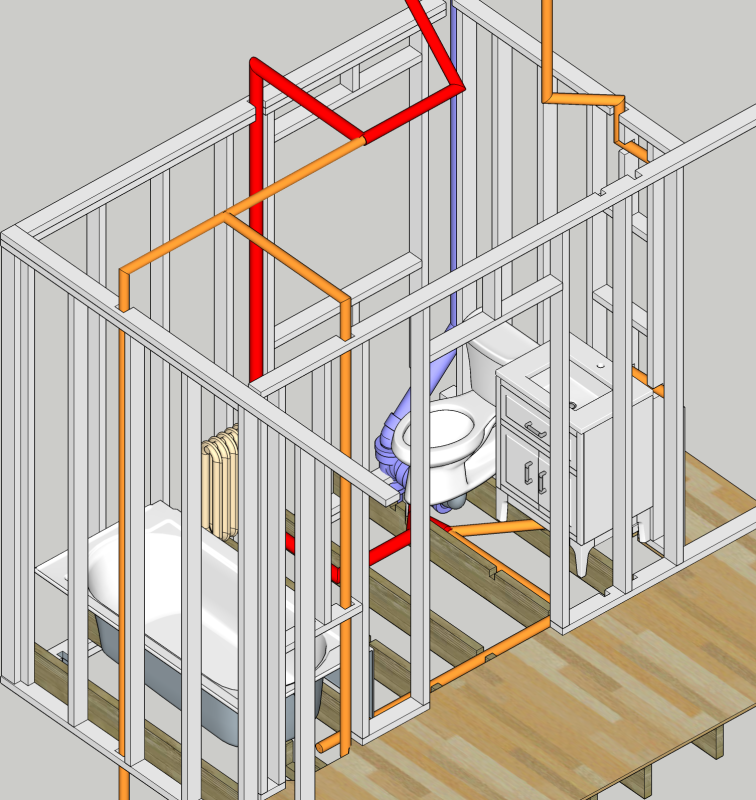 In the second image fixtures and a couple of walls have been removed to get a better view of the old DWV layout:
The stack is cast iron (bluish), the other piping is galvanized. The galvanized for the waste upstream of the sink / tub joining wye is 1.5" (orange) and downstream it's 2" (red). It's an 8'x5' room and there is a bathroom on the third floor.
I plan to replace the galvanized with PVC but I was hoping to reuse much of the existing DWV routing through the joists but, unfortunately, the toilet trap has sections that are horizontal and dry and well below the flood line. I've seen web content suggesting a properly pitched dry horizontal vent below the flood line is OK, but, from what I can gather, there are good reasons why dry horizontal vents like this are not permitted by UPC code.
My local code (
NYS
) does permit horizontal wet venting, so, as shown in the third image, my idea is to have the line between the toilet 4x4x2 wye and the sink p trap serve as a wet vent for the toilet: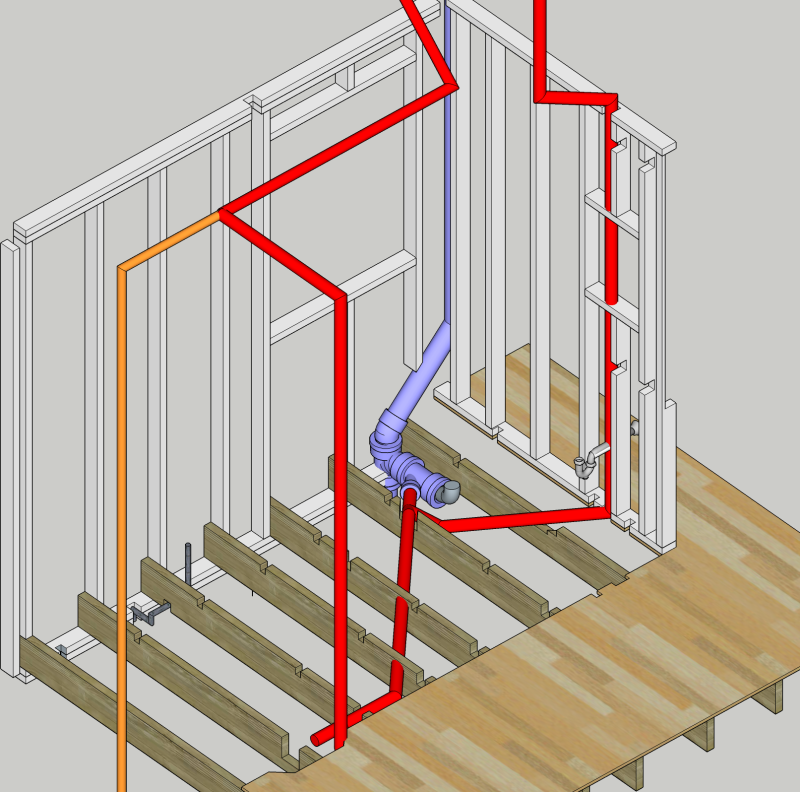 (same color conventions for PVC pipe width)
The old tub didn't drain particularly well and it was difficult to snake, so I took a direct route between the tub and the main stack. This approach will require more cuts to the joists and, assuming the new DWV layout is ok, my next step is to figure out what needs to be done to reinforce the joists.
Assuming proper slopes etc, does
anyone see any glaring issues with the proposed DWV routing?