Messages

7
Reaction score

0
Points

1
Location
Hello! Apologies in advance for the long post, and thank you so much for any help provided!
My home has 10 main floor radiators and 1 basement radiator, all cast iron and all fed by a monoflo system. We just had an old 1940's radiator (roughly similar to
this one
) replaced by a Navien NHB-80. The new unit has been in place for about 2 weeks, and based on a few tests (no real cold weather yet), things don't seem to be working as they should.
New vs Old system overview: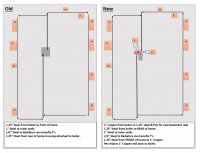 (for clarity that should probably say 1" steel to AND ALONG outer walls. The 1/2" is only from the diverter T's to the rads and back)
1.25" to 1" junction at the front of the house: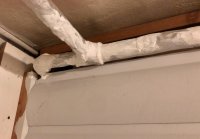 New Boiler Setup: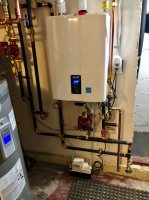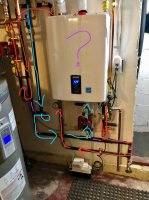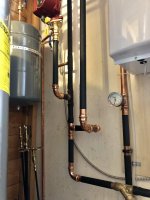 So my problem... The HWS is leaving the boiler at ~125F, and coming back in the pipes at ~90F. Which sounds fine, except the 125F water isn't actually getting into the monoflo system and radiators. Instead it seems "blocked" by the cold water return, and the result is ~90 to 95F water actually getting to the system pump and being sent on from there. Meanwhile, my 90F return is being mixed with the 125F HWS just before reaching the boiler return, resulting in a return temp at the boiler of ~115+.
124.6 supply, 92.6 to System Pump: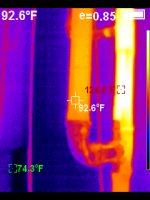 Left pipe = to System Pump, center = 89F CWR, Right = 123F HWS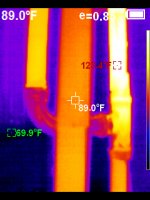 126.3 HWS, 90.6 Past System Pump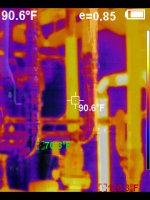 CWR Mixing with HWS, net 118F at boiler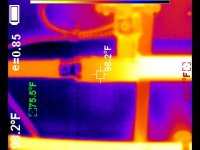 The not-cold cold water return issue is annoying, because I feel like I "should" be getting more condensing efficiency than that will provide. But the ~90F actual supply temp is a far bigger concern - I don't see any way my rads will keep up with a Minnesota winter with 90F water. I try to understand the operations of my house as best I can, and I've done a ton of reading over the last week or so, but this is all still way over my head. I have so many questions...
-Am I crazy, and this all somehow normal and correct?
-The installers reversed the direction of the supply and return flows (see the new vs old image above) - could that be responsible for the issues I'm seeing? At first I thought so, but after reading more I'm not sure.
-Why was the new system plumbed to allow supply + return mixing? (the previous system didn't mix at all, at least as far as I could tell). What need in a mod con does that address?
-Is this the proper approach, just poorly implemented, or is this not something that should be done in this system?
-Why does the cold water seem to be "winning" when mixing? (120F supply + just under 90F return leading to just over 90F to the pump suggests almost exclusively cold water is getting through at that junction...?)
-Is 1" pipe upstream of the 1.25" main monoflo line problematic?
-How do I go about determining the optimum setting (high/med/low) for each pump? The installer just set them both to medium and said "that should be good".
Incidentally, I've tried the pumps at all combinations and the above behavior stays essentially unchanged. The only exception is when I set them both to low. In that case the boiler seemed starved for water when starting up, made some not great sounds, the supply temp started to spike, and I quickly set the boiler pump back to medium.
Other details...
-My system tests were done over 2 mornings with outside temps of ~55F, inside temp of ~68F, and the thermostat set to ~85F.
-All rads in the house ARE getting warm, just to around the same ~90 to 95F I'm seeing leave the system pump.
-During the install 2 new basement radiators were added, each of which tie into the new copper via their own runs of PEX.
-The pumps installed are Grundfos 15-58s.
-My home is ~1,800 sq ft, with a DHL of around 40,000 BTUs (or ~55k at 1.4x DHL) as calculated based on winter gas usage per
Dana's Out With The Old article
.
-FYI the black tape on the copper pipe in the pictures was put there by me, needed it to get accurate temps from the IR camera.
I've done my best to detail the new vs old system in the above pictures, but let me know any important details I've left out. I definitely plan to have the installer back out to correct whatever issues exist, but I'd love to go into that conversation as informed as possible. At this point I'm not feeling great about their ability to get it "right" on their own.
Thank you again for making it this far, this forum has been invaluable for me up to this point!
Last edited: