Messages

306
Reaction score

9
Points

18
Location
The problem starts when I turn on the hose bib. Water is coming out of the hose, but also out from the brick front of the house several feet from the hose bib. Fortunately, the water stops when I turn off the valve. So I figure that I have a leak inside the house only when the hose bib is on. This would make sense if the sillcock was one of those frost free valves with a long rod leading up to the valve seat, and if the body between the valve seat and the exterior wall had a leak. Unfortunately, I have no access at all to the wall area where the valve is located from inside the house. My one hope is that the valve is threaded into a female adapter. The piping is all CPVC. I can see the pipe for a short distance from the basement, but it then goes into the wall cavity above the basement ceiling.
Part 2 of the problem is the shut off valve in the basement. It does not fully shut off the water. So I cannot attempt to twist the sillcock free, because if it is not threaded, or does not come free, I might inadvertently break a pipe that I cannot reach to repair. I would like to replace the shut off valve, but I'm not sure how to do that. I have attached some photos of both the hose bib and the shut off valve. The shut off valve looks as if it is threaded on both sides with male threads and connected to the CPVC with what look like female garden hose adapters. I would just cut out the existing valve and replace it with a different valve, but once I cut out the valve, I will only have about 3/4 inch of pipe to work with. Is that enough for either a CPVC coupling or valve? I would buy another of the same valve, but I haven't found anything just like it.
Any help on either problem would be appreciated.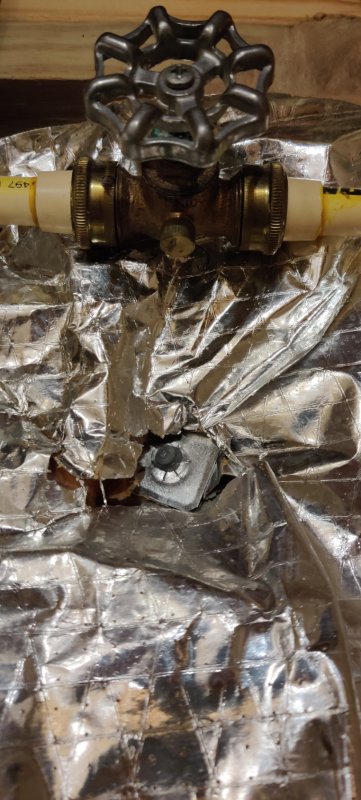 Last edited by a moderator: