DIY- minimal plumbing experience - I am in the process of attempting to finish my basement and want to re-work the layout which will involve me reconfiguring the existing pipes. I have excavated the area, and because the bathroom is right where the main leaves the house, the main drain line is pretty deep under the floor. There is a cleanout (you can see in the photo) that is a cast wye that bends right down into the main drain line. Is it possible for me to cut this cleanout, and then basically connect a 4" PVC 90 off the top of it, with a fernco fitting to create a new toilet line? Then I would simply cut the existing 4" cast and reduce it to 2" for a shower drain and connect it to the existing vent for sink?
I know I can do the shower drain and the sink without much of an issue, I am just concerned about connecting pvc to the cleanout with a 90 and whether that is acceptable. Also, is the 2" vent going to be sufficient for the toilet or will I have problems? I could excavate a little more and do a cleanout behind the toilet and then connect it to the vent but it seems like it is such a short run, with the main being right there and that vent being like 8 feet away, I feel like it should be okay?
EDIT: Also if allowed, what is a fair price for someone to charge to do this work since its been excavated etc.? I have no idea what I am looking at here cost wise. $1000? $5000?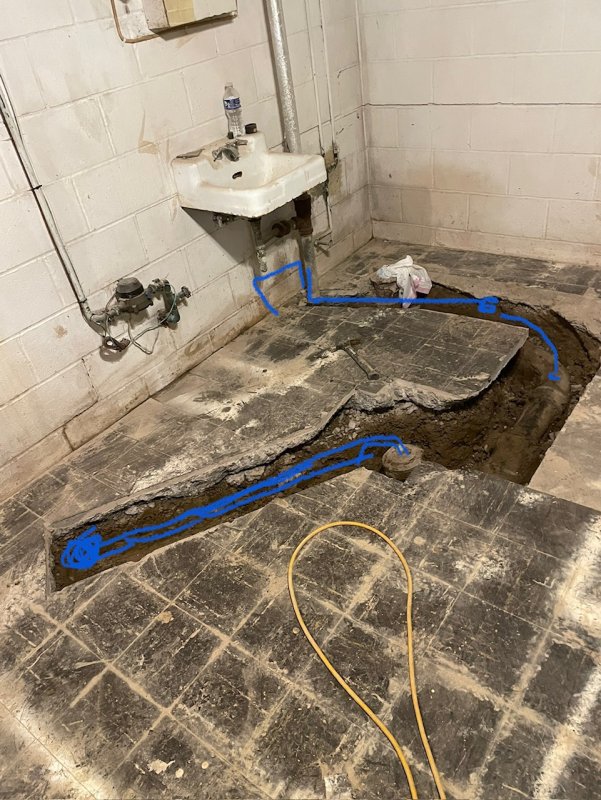 Last edited: