Messages

3
Reaction score

0
Points

1
Location
Hi all!
We recently bought a new, two-story house and were not happy with the water 'pressure', or flow rate(I've been reading and educating myself
), especially in the second floor master bath. We just upgraded from a 20-something gal tank with a 30/50 switch to an 86 gal tank with a 40/60 switch.
At first we were very happy with the results, until...
two days after the upgrade, we noticed that the pressure would drop phenomenally as the switch neared the 40 cut-on setting and it took what seemed like forever for it to reach that point before the pump would kick on and raise it back up...I mean literally a trickle would come out. Not to sound girly, but if I had had to wash my hair at that moment, it would have taken HOURS.
One factor in play is that earlier that morning my husband, awesome as he is, ran the garden hose to fill our fish pond for about 1 1/2 hours and forgot about it!
...this leads me to my questions: a) how much of my husband's 'faux pas' was to blame for the drastic drop in pressure. And
b) If we upgrade the switch to a 50/70, would that help the pressure, given how many fixtures we have without hurting the well pump?
FYI, it is a 3300 sq. ft home with 3 levels. Main level has a half bath, kitchen, mudroom sink, outside spigot, and laundry area. Upper level has two full baths. basement has the water heater, softener and tank, but we would like to put in a full basement down there at some point. We also have the fore mentioned fish pond but that is on it's own pump system to circulate the water. The well pump is a 3/4 hp, btw.
Please use laymen's terms that I can understand. I have been reading up on it but I don't pretend to understand any of the equations, etc. involved in plumbing lol. Thanks in advance!
*Edit*
And then there is this as well...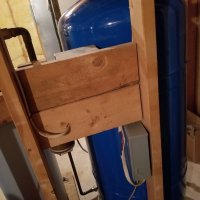 Everyone that we have had look at our system has not understood the need for the two boxes (normally just one) behind the pressure tank. Could this be part of the problem?
Last edited: