Messages

7
Reaction score

0
Points

1
Location
I am installing a chemical injection pump ( wired in with well pump), retention tank, sediment filter, and carbon backwash filter. Please critique my plans to do this.
1. I want to install the injection tee immediately after the check valve and before the pressure tank. I am going to move the pressure tank forward enough to make room for the injection tee. See picture 1 For the check valve and main line in from the well.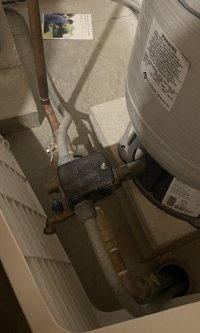 I believe the pipe size is 1.5 inch. What thread type is it? Is it fpt? i would like the injection port to be .5 female thread. What material is available to use? PVC, Cpvc, brass?
2. next I am going to remove the copper pipe at the ball valve. I want to thread in a male piece and start a 1 inch Cpvc line that will run to the retention tank. The retention tank is a wellmate ut30. I believe it has 1 1/4 inlet on the bottom. What is the best way to get 1 inch Cpvc to the 1 1/4 hook up on the tank?
3. Then out the top of the tank I am going to run 3/4 Cpvc over to the sediment filter, with a ball valve prior. Then into the carbon filter, with a spigot after, before returning to hook back into the main water supply. I will tee a 3/4 line off before the sediment filter for an outside faucet that will be unfiltered. See picture 2 below.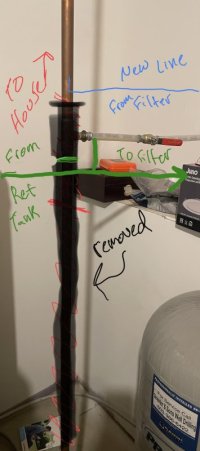 Green line comes from top of retention tank. Blue is returning back to the copper line that will feed the home. Black areas are removed pipe. Some questions on on this part. What is the easiest way to connect the Cpvc and the pex line that run to the outside faucet? How about connecting the copper to the Cpvc. I also could go further up and run the Cpvc to connect to the pex that is above the copper if that is an easier connection.
I find the hardest part here is figuring the sizing of the pipes due to different materials and sizes of pipes and different connections. If I could get some terms for threads and materials and parts that might help me locate the correct parts would be helpful.
I am handy in that I can work on most anything and have sweat copper fittings before, not fast at it but I can do it. I know I could find the parts but would be with some trial error until I found the proper ones. Trying to avoid that!
Thank you for any help!