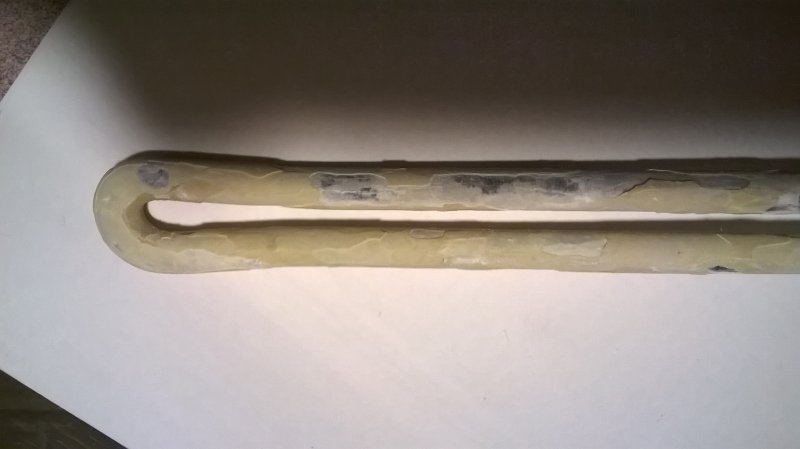 Hi All!
The water heater is a 30 gallon US Craftmaster duel element electric standard tank. The heating elements are 4500W each and the wiring is only 12-2 but is only 6 feet from the electrical panel so maybe that is ok. I checked and the wire is not warm while the tank is heating.
Back to the noise. We have lived here a year and the tank was new when we moved in. In the past couple of months I have been noticing a slight hissing sound when the tank comes on. Over the past few months it has become a little louder and higher pitched.
Well yesterday my son and I drained the water heater and attempted to flush it but not much came out. Some sand like material, less then a 1/4 cup. We pulled the lower element out and looked in the hole at the bottom of the tank. There is still some sediment and a few larger particles on the bottom but nothing caked up though I think it can be flushed better. To flush it better we are going to have to change the drain valve. The one on it is plastic and you turn a screw in the center of what looks like a handle. The outlet hole is very small and I believe some of the particles may have clogged it up.
Anyway, we put in a new lower element and I plan to clean the old one. It has a fair amount of white calcium build up on it though I have seen worse... So after flushing the tank and installing a new lower element, we are still getting the hissing sound. My son was taking a shower and I heard the tank kick on and start hissing. I grabbed the electric meter and checked the upper element and it was off so I know it is when the bottom element is on.
We are on well water so I wasn't surprised to see some of the sand... Our system has a softener but we haven't been using it for the past 6 months. When we use the water softener we get a bad sulfur smell.
Anyway any advice is appreciated.
BTW this tank has the connections on the side of the tank with cold at the bottom and hot at the top.
On the end with the threads is discolored because i used a brass brush to clean it.
I checked the ohms and it was fine at 12.5 which i read is with in spec.
Thanks
Charrie
Last edited: