Hi Guys,
I'm completely redoing my bathroom, and want to fancy up my shower. I'd like to have a regular wall shower outlet, an overhead rain shower outlet, and two pairs of body sprays, one higher and one lower, like in the picture below. It would be great if these could have good flow even if they're all on.
My house has fair water pressure I think, but this bathroom is towards the end of the 3/4" PEX main lines.
To get the most volume I can, I'm taking 3/4" PEX to the mixing valve, and trying to identify how to make this work ok, even if there were possibly 6 sprays going at once. From what I've seen, there are 3/4" thermostatic mixing valves that should be able to carry the necessary GPM, and I figured I could take the output from that and direct it to two separate 6-function transfer valves-- one to control the pair of showerheads, and one for the two pairs of body sprays.
Here's the thing- I understand these thermostatic valves tend not to have any shutoff capability and are intended to have downstream volume control valves for turning the water to the outlets on and off. I don't want to have my shower wall loaded up with five levers for individual control of all these things, (how complicated can a shower be?) nor do I want to buy so many expensive valves and trims.
So I'd like to know- can I just cap one outlet on each of the two transfer valves, thereby only using two of the three outlet ports for each, and so when the handle for each valve is selecting flow to only the capped position, that valve is effectively "off"? When I called Moen to ask this, the lady said that they don't test their valves that way and won't approve of such an arrangement, but I don't see why it shouldn't work. (Probably they just want to sell you more volume control valves.) I'd like to know if anybody else has done what I'm thinking of, and how did it work out?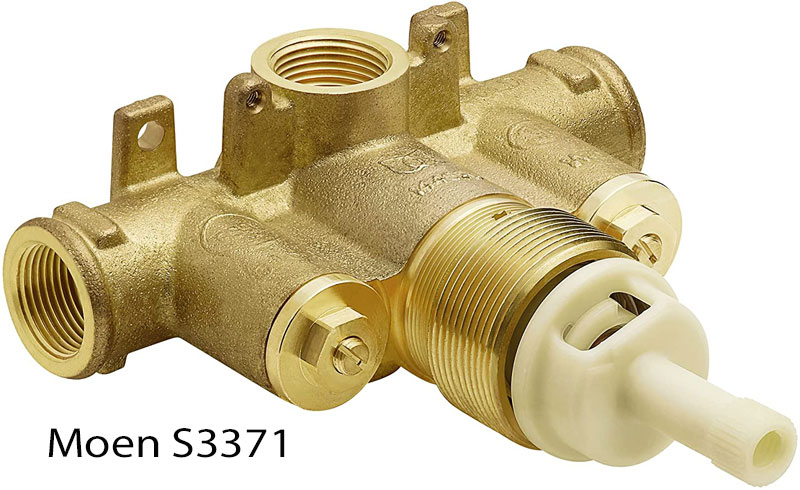 She also said their highest flowing Thermostatic Valve, the S3371, which is supposed to be good for almost 16 GPM at 40psi, is only good for max 4 outlets at once. Why would this be- even if these were 2.5GPM showerheads, shouldn't there be at least capacity for six? So what now? Do I need ANOTHER separate mixing valve coming off my 3/4" main lines?
I don't care about having volume control. I want max pressure and max volume available to any outlet I'm sending water to, and would welcome any suggestions on how to do it, including specific valve options. Thanks in advance, guys!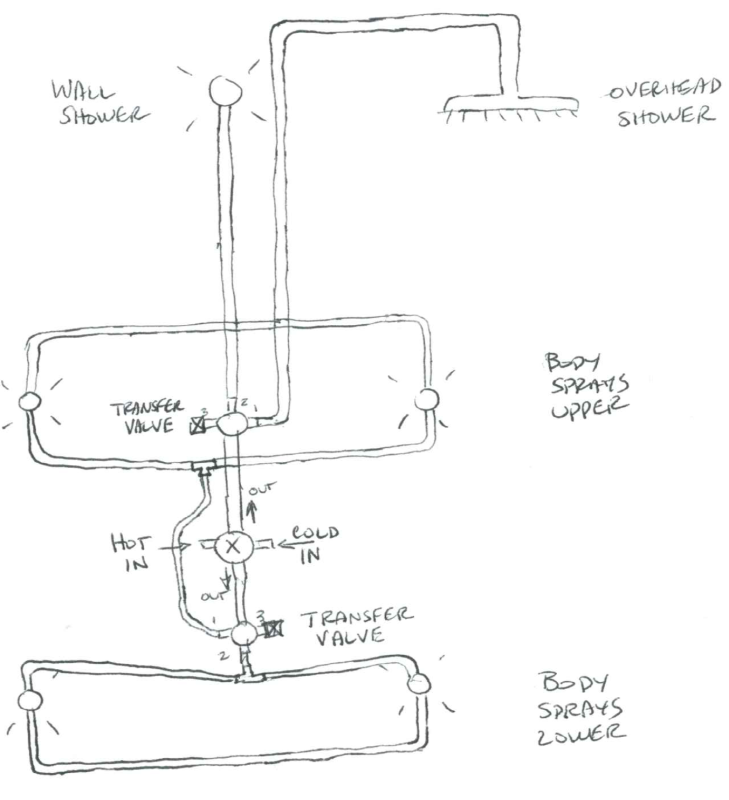 Last edited by a moderator: