Messages

6
Reaction score

0
Points

1
Location
(I posted about this same washer drain setup 6 years ago at
https://terrylove.com/forums/index.php?threads/improving-washer-drain-duct-tape-or.50116/
)
Summary:
My washer standpipe is draining extremely slowly. Tonight I did some testing and it seems to have gone down maybe 3" in an hour.
Background:
I was away for an extended amount of time and when I returned I discovered water on part of a floor (the area in front of the washer/dryer combo and hot water unit). Eventually I ruled out a leak from the hot water unit, but I thought maybe the washer was somehow leaking on its own.
I noticed when I took a shower the water didn't drain as quickly as it normally does. Like after 6 cups the water level would reach the tub, but when the water was stopped it would drain quickly. No noticeable problems with sinks or toilet. About every five years the old landlord would have to clear the sewer line outside the building, claiming a root problem. The newer landlord, when there was a very noticeable backup issue five years ago, I think did some more extensive work, I think claiming it wasn't a root issue (the details are fuzzy). But I wondered if the current issue was related to all that.
At some point more water appeared near washer and I thought maybe it was a leak (from a spontaneous re-filling of water?). But one day I was able to catch the water "in the act" and saw it coming out of the standpipe. Ugh.
There's an apartment upstairs. He doesn't have a washer, but I'm not exactly sure how all the pipes are connected (we aren't individually metered and it's an old 1940s building). He said his kitchen sink is slow to drain (he also claimed the hot water drains faster than the cold water?) .
I ran a simple snake down the standpipe and got ~3' or so, I'm assuming to around the P-trap area, and didn't encounter any oddness. However, there is definitely standing water in the standpipe. I poured some water into it, and it reached the top very quickly and then I periodically checked how far down the water went (very little after an hour).
So I'm assuming there's some blockage behind the wall? And if the guy upstairs or myself uses too much water at once then the standing water (and more) is pushed up out of the standpipe? I have had to clean up the floor repeatedly at this point. (I'd say maybe a half gallon appears, I'm not exactly sure of the amount, maybe less.) Sometimes two days has passed with nothing though. I don't use much water (don't leave sinks running, don't take daily showers, etc.), but I'm guessing if the guy upstairs uses a lot at times then I get some of that? I don't know. I know little about plumbing, but I do like to observe.
Is it possible the problem is further along than just inside the wall? I'm just trying to gather as much information as I can observe before contacting the landlord. As mentioned in my post from years ago, the washer/dryer combo and water heater are in a very tight spot, and I have too much Stuff near it, so getting fully behind the washer would be crazy (currently I'm accessing the standpipe etc through the transition panel area).
Here's an image I posted years ago that is still relevant. I guess there's no clean out place?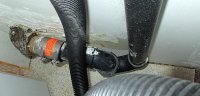 Bonus:
After realizing the water from coming from an overflowing standpipe and not a washer leak, I was somewhat relieved (hey, washer isn't technically broken!). But then I happened to open up my washer, which for some reason I hadn't done before that while doing all the troubleshooting. I last did wash over three months ago. I almost dropped to the floor when I discovered that the washer tub was completely full. And it wasn't crystal clear water, it was blackish (but the viscosity of "normal" water) and the top layer had a film on it (from sitting there for months??). Can I assume that water came up from the standpipe into the washer hose and into the washer? Was this technically sewage water or blackness from tubing? All the current water that overflows is clear.
Last edited: