Hi, I just installed 2 whole house filters, one before the water softener and one after. They have a clear sump and I noticed when I turned the water back on, the first filter fed from the supply line had quite a bit of air bubbles in it and then it stopped after running the water about a minute or two. If I cut the main valve off and wait 10 minutes or so and then turn it back on, I get the air bubbles again.
I ran the sink, flushed both toilets, and turned on both bathroom sinks all at the same time and I saw the bubbles coming in the filter and then they stopped. Again turning off the main supply and back on in 10 minutes or so, I get the bubbles again. It is a good little surge of air bubbles.
I shut off the main at the house and went up to the well. The pump was not running and the gauge was showing 40PSI. Mine is set to 30/50 PSI.
I tapped on the gauge and it might have moved about a pound. I stayed at the well and fooled around for about an hour and then checked the pressure gauge again. once again tapping it and it was still at 40 PSI and the pump had never come on.
Thinking, what if the gauge is bad I cracked the hose bib to see if there was a suction but it had pressure on it.
My well is about 330 feet from the house. The house may be slightly higher then the well house. From the well the land goes downhill about 20 to 25 feet over a length of about 180 feet and then starts back up hill to the house for another 150 feet.
The pump is a 1/2hp 240v and the drop pipe as well as the supply to the house is all 3/4". Poly drop pipe and PVC from the well to the house.
At the well head the water feeds directly into the 2 year old pressure tank, then into a sediment filter, and then to the house and into the first filter on the right.
I had the water turned off at the house for about 8 hours while I did the plumbing and allowed 2 hours for the glue to cure. i did not check the pressures then because I didn't know I would have this issue.
What should I check for next?
-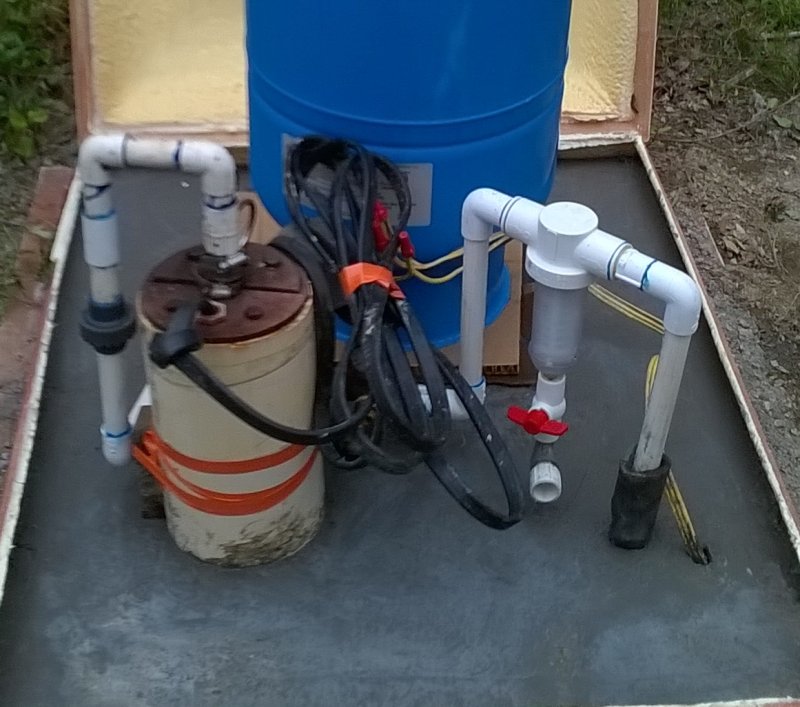 Thanks
Charrie
Last edited: