Messages

39
Reaction score

4
Points

8
Location
Hi everyone,
Yesterday I installed an acrylic shower base,
Dreamline Slimline
, on my concrete basement slab. My floor was not level, so this is what I did:
1. I hot glued composite shims to the cement floor where the shower bases circular support rings would contact the cement. Hot glue was just to hold shim in place before mortar bed was added. I dry fitted the shower pan onto the shims to make sure it would be level on the shims. I marked my studs.
Here is what I mean by the circular support rings,
2. Then, I laid piles of mortar at all of the circular supports with at least an 1" thick of mortar.
3. Then, I laid the shower pan, pushed it in place until it was level. I added bags of mortar for weight and let it cure for 24 hours.
Did I screw anything up in this process?
My Problem
After letting the mortar cure for 24 hours, I stepped on the pan. In the back corner, the pan flexes up and down. Everywhere else, it is solid, no flexing. Here's a picture of where I have this issue. It's in the corner area where it flexes up and down even with the pressure of my hand pushing it.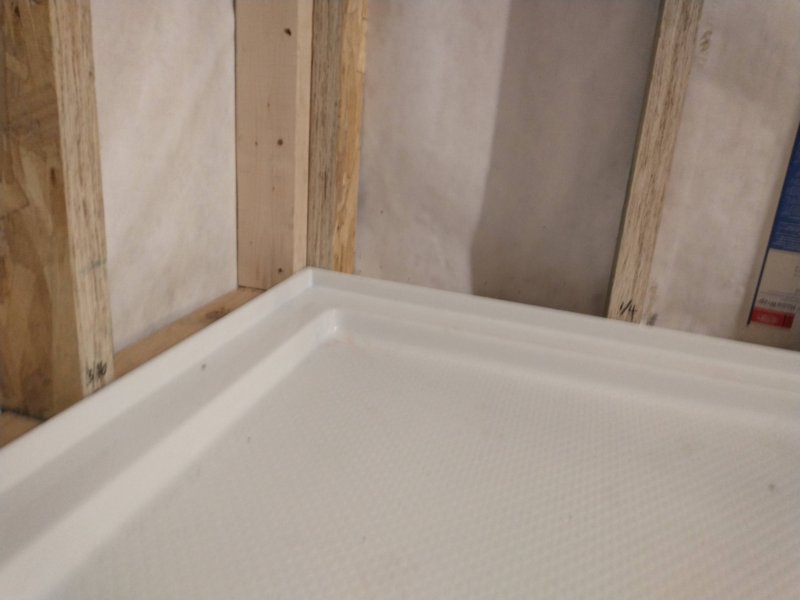 Here's a quick video
-
What can I do?
Here's a few ideas I had so far,
Idea 1
- Cut a notch in the 2x4 base plate and use a mortar bag to add more mortar in that area. I'm thinking I would do this without any weight on the pan, when it's flexed high. This way the mortar gets pushed against the shower base bottom, it cures, and then rests on that mortar. First, I wonder if I could even squeeze mortar out of a grout bag. I also wonder if I would get the mortar against the shower pan well enough.
Idea 2
- Cut a notch in the 2x4 base plate use
low expanding spray foam
to fill in the cavity. I'm again thinking I would do this without any weight on the pan.
Idea 3
- Start over. I would have to rip out the entire shower pan, chisel off the existing mortar from the concrete, and lay another fresh layer of mortar. This would suck because it's a ton of work and I might ruin the $500 shower pan.
Help! Honestly, I do appreciate any help and advice.