The Plumbing Wizard
Staff member
Messages

29,948
Reaction score

3,449
Points

113
Location
Website
I started plumbing in the Seattle area in 1974. My first job was at Crown Custom Plumbing. They had at one time 150 plumbers working for them. Our vans were Fords, white with a blue horizontal strip. We plumbed a lot of homes on the Eastside, Moen Chateau was our valve. Single handle with a 1200 cartridge. We set the shower heads at 70" from the floor because our boss, Gayle Bellows was 5'6" and he didn't like them higher.
This one actually had stops with it. Moen 2600 shower valve. Moen was original to Seattle in the 40's.
The tile was falling off the wall here. If the tile was being worked on, it was also a good time for a new valve.
A new Delta R10000 with stops. Nice for a remodel because without them, the water crosses over. There is a plug you can get that blocks a port to stop that. The stops are nice though. I don't have to turn the water off to the home when I come back for trimming the valve.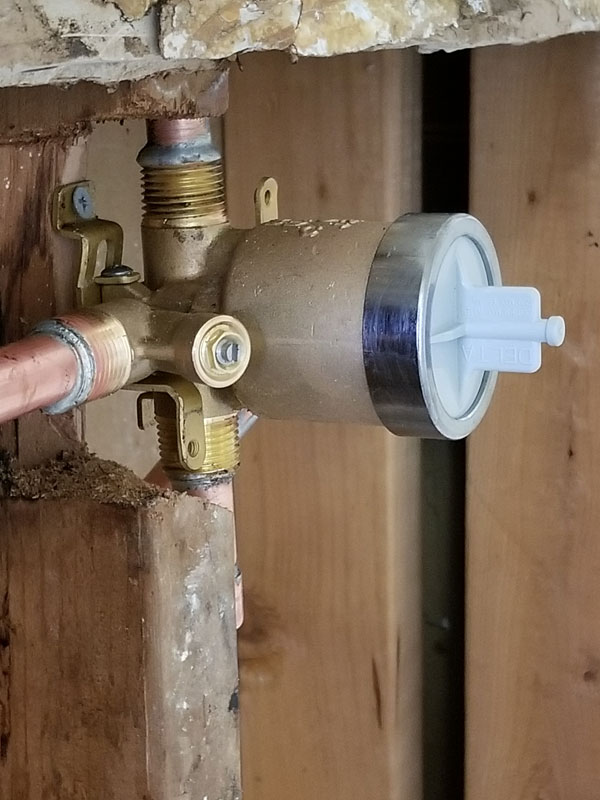 Tile guard in place so I can access the stops later and screw on the wall plate.
A nice job on the tile by TnT Grout & Tile Restorations