Messages

1
Reaction score

0
Points

1
Location
I've had a Navien NPE-240A2 installed since May with a NaviCirc at the end of my house. The unit does NOT have a T off the cold water line to the recirc inlet. The internal valve is set to EXT, the control panel is set to EXT with NO external pump.
The recirc feature works as expected. However, when the recirc functionality is turned on, and only when it is turned on, the showers produce extremely hot water when the shower valve is quickly turned from cold to warm (on my value, full cold is 3 o'clock, full hot is 9 o'clock, and 12 should produce luke warm). Moving the handle back to full cold results in continued scalding hot water for about 10 seconds. Note also that when this scalding hot water issue is happening, there is an odd sound coming from the valve area/behind the wall. In addition, the Navien shows the flow is 2.5 GPM, which is impossible because the showerheads are 1.0 GPM low flow heads.
The installer has spent probably 20 hours troubleshooting this issue, and as of today as even installed a new NPE-240A2 unit as all other troubleshooting failed. The phenomena still occurs. They now think it's the shower values and that they need to be replaced. This phenomena occurs at each of the 4 showers in the house (3 showers with the master have 2 showerheads on each end). How could it be that all 4 valves are faulty, and that it only occurs when the recirc feature is turned on?
I'll also note that there does not appear to be a check value on the cold water line prior to the expansion tank, as shown in the attached images.
I found a thread elsewhere and the person describes a very similar problem, though his happened regardless of the recirc feature being enabled or not. His problem was a check valve in the kitchen. Could my problem be because there is no check valve on the cold supply line? Here's that other thread:
https://www.plbg.com/forum/read.php?1,555673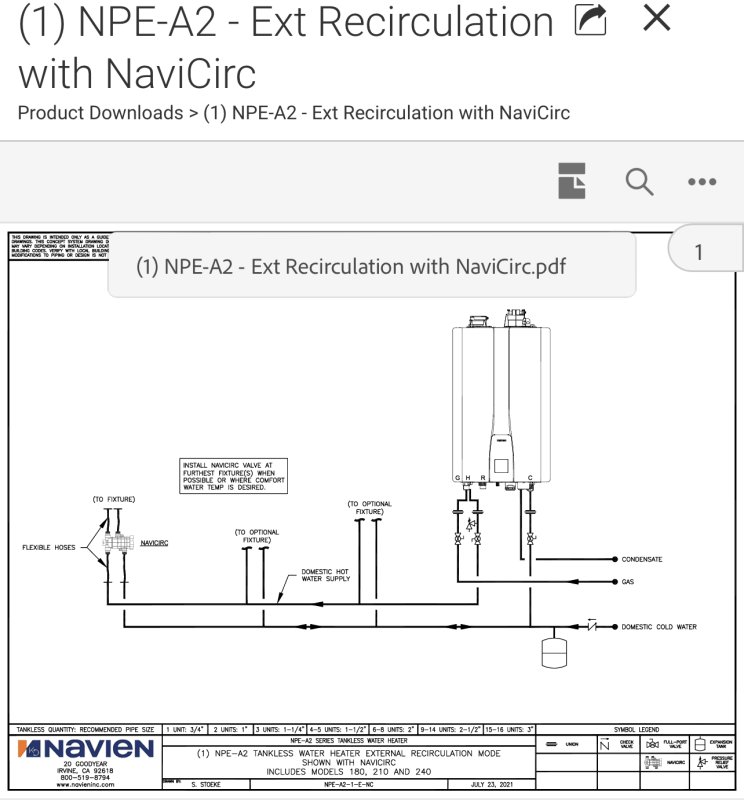 Last edited: