Messages

28
Reaction score

0
Points

1
Location
Our water softener suddenly wouldn't stop calling for water, it was just running through the rinse cycle constantly. Even unplugging it didn't stop the water usage. My hubby called the company that installed it, and they told him how to bypass the softening system. They then came out and diagnosed the issue within 30 seconds - a broken timer. Said they'd have to let me know how long it would take to get one, and what the cost would be.
Later that day, they called and said good news, it was under warranty, and it was in stock. But they'd have to call us back to tell us when they could send someone to do the job.
Fast forward a whole week. My husband called to check on the status and left a message, saying he understood the part was in stock and under warranty, but we needed to get it taken care of ASAP as the hard water is wreaking havoc with everything in the plumbing. They called back (same guy that called and talked to me last week) and said, "Your husband said he thought this was under warranty, but it's not. And besides we don't have it in stock. We haven't even been able to get a price on it yet. They're not easy to find." I asked him for the part number, but even after repeating it THREE times, I still couldn't understand him. I finally asked what is the brand name of the system we have? Fleck. That was the only reply I could remotely understand.
Now I KNOW he told me it was under warranty. I didn't make that assumption. I don't know how long the warranty is good for. And I KNOW he said it was in stock. So now, I'm thinking the water softener isn't the only thing that's broken! But that's neither here nor there. I'm not up for buying a new system. I just want to fix what we have - it was installed in 2007.
Below are some pictures of the "works" behind the faceplate. Can someone help me identify what it is we have? And where I might be able to find replacement parts? I found the receipt for when we bought the system. All it says is Twin Water Softener 9F1054D.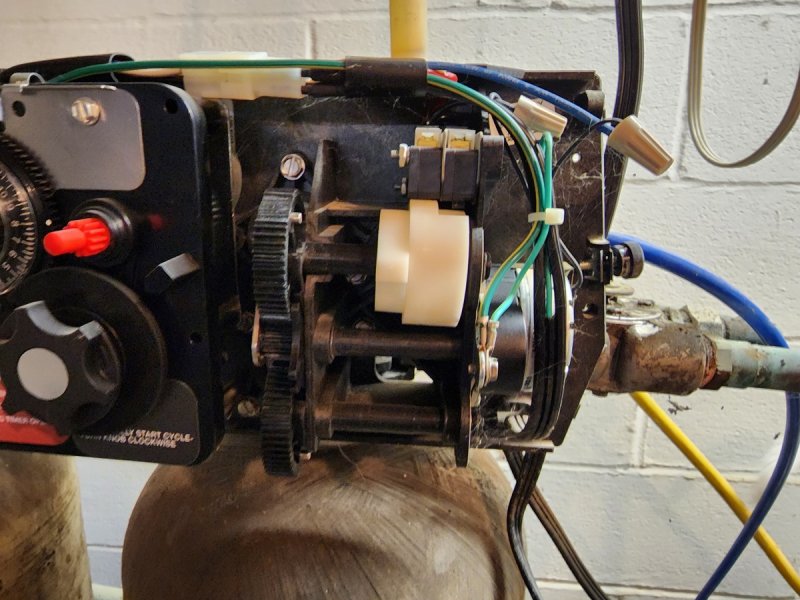 Last edited: