Messages

1
Reaction score

0
Points

1
Location
So I have two 2 inch DWV that go into my crawlspace through the foundation wall at different locations for different fixtures. The first is for a kitchen sink and the second is for a washing machine.
Both configuration are essentially the same.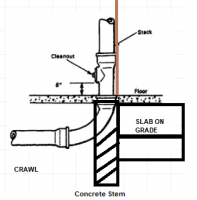 I have read the 2018 UPC and in Washington it looks like this is the latest code. I am concerned about the verbiage, "each horizontal drainage pipe shall be provided with a cleanout at its upper terminal, and each run of piping...
It seems to be referring to a configuration like this. However, I am unable to plumb this due to where the DWV enters the crawl.
In my research, I've also found this configuration.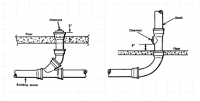 This configuration would be doable for me as I could install the clean out above the crawl and provide access through the utility closet where the washing machine will be.
If I understand the intent correctly, the clean out is to provide a means upstream of any potential blockages so that it can be cleaned with some cable or rod. I've also seen photos like this and was wondering if this would be an alternative if the cleanout had to be located on the horizontal slope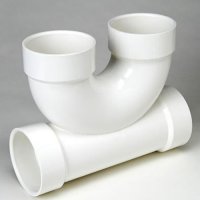 (presumably this cleanout provides access in both directions of the DWV).
Anyhow, your thoughts would be appreciated.
Thanks all!