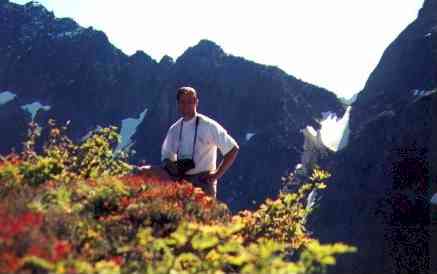 Lake Stevens, WA
Special to the Herald, Terry Love
Bruce Martin, long a legend in hiking circles has set a standard that few can hope to match. His tenacity and fortitude has pushed him to the head of the pack when it comes to stories of "tough men of the mountains".
When asked about his success today, and how he became the man that he is now, he replied, " My love of the land, I learned from my father, a tough man himself. I respect him for all that he has done. I hope that when we are gone, we will be remembered as men with no fear, but love for family, country and God." Tales of his hiking come from many people in the hiking community. Admired are his treks into the North Cascades, following the same trails the Indians used hundreds of years ago.His favorite hike, is a test of any man. With no trail to guide him and only his uncanny sense of direction to lead him, he goes where few have followed. A torturous hike up and down steep grades, no trail, through brush that tears and pulls at pack and clothing. Biting flys that land on uncovered skin, branches that snap at legs and rocks that slid under foot. Walking below glaciers across the basin he often sees deer coming out to watch him. Occasionally bear watch with wary eye. Once at the lake, shadowed by tall knifing peaks, the fishing rods come out. A spinning outfit and a fly rod. Teasing the fish in the lake, Bruce knows just what to "present" for fierce action. When the day is near it's end, the meal done, and cold icy water splashed on face and hands, he settles down for a cup of hot chocolate laced with Southern Comfort. Looking out across the lake at shear cliffs of rock, moon glowing with starlight above, he ponders life as we know it. From this, and his firm belief in God, he gains his strength.

Bio on Bruce Martin
Indian Guide
Boy Scout
Air Force
Boeing Engineer
Husband
Father
All-around good guy