Messages

22
Reaction score

0
Points

1
Location
Hi Everyone,
I looked through here but I didn't see the issue I'm having addressed here.
I have about a 4 year old whole-house water softener. It's a Fleck 5600 SXT head 48K grain tank.
It was working fine until just this past few weeks. The water pressure has been dropping in the house and I was able to isolate it to the softener. When I by-pass the softener the pressure is great!
While trying to figure out what could be causing the drop in pressure I unscrewed the head from the structural tank. When I pulled off the head the media bed immediately expanded to about an inch above the top of the tank. Within an hour it was covering the top of the tank and the next day it was scattered all over the floor.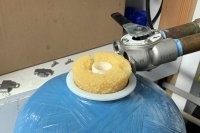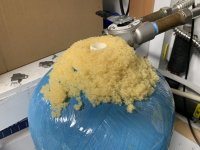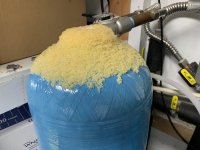 I contacted the place where I bought it and they have no idea and have forwarded these pictures to their distributor. I called Pentair and the guy there had no clue saying they don't support whole systems, just the individual components.
I read that chlorine in the water supply could damage the media but this stuff still feels fine to me. When I take a pinch of it and squeeze/roll in between my fingers it still feels like tiny balls. It doesn't feel like it's crumbling at all. And I don't think we have any excess chlorine in our city water. I could test it with my pool water test if that would be informative.
The water pressure is a nice 60 PSI coming in.
So, any ideas from anyone out there?
Thanks in advance!
Larry.