Messages

8
Reaction score

0
Points

1
Location
Hello,
I just had my Navien NPE-240A (EDIT: It's actually an NPE-240A
2
) and NaviCirc installed today. First time tankless user. I was reviewing the manual and installation after they left, and I don't think they have the NaviCirc hooked up properly, and I want to confirm before I call them back out here.
1) They have the internal valve set to "Internal Recirculation".
2) The mode in the settings is set to "Internal Recirculation".
3) I think, even if the settings were correct, that I would need a check valve in the cold water supply line
after
the tee.
I have no problem adjusting the settings and internal valve, but I think I would rather have them install the check valve if it's required. I just want to make sure I'm not overlooking something here and that there is a check valve installed (internally or externally).
Thank you.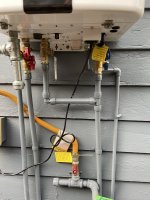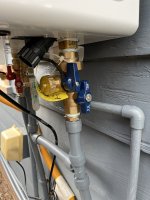 Last edited: