Messages

4
Reaction score

0
Points

1
Location
Dana ive been following your posts and your a wealth of knowledge. Thank you! I've seen your recommendations on insulating similar cantilevers but none were as ridiculous as mine. I have a 1962 split level ranch transformed and remodeled several times over 60 years. Not a care was given to insulation, heat loss, or logic. Im a plumber so please forgive me if im not great with structural/insulating terminology and practices
Im in Long Island, NY. I believe zone 4A. Im trying to insulate below a bay window which is on my cantilevered first floor.
3×7 joists run over poured cement walls. Brick facade was added at one time. Much later on about 10 years ago the previous owner slapped stone facade onto the brick. Basement and house gets humid in summer and drafty floors in winter. I plan to have dense packed cellulose installed in the rest of the house. I am trying to tackle the bay window in front myself. The backyard facing side of the house has 45ft of overhang over poured concrete wall. Pretty sure no brick.
So under my window I planned to do this: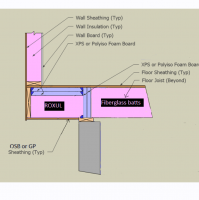 However based on the following pics I may be wrong going by what i uncovered when i opened it up. So how should I insulate my cantilever?
8ft basement wall interior facing out.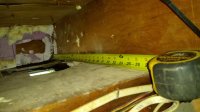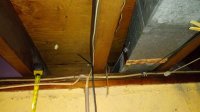 Exterior facing into cantilever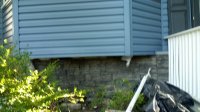 1/4 plywood which is also exterior bottom of overhang and two pieces of .5" what looks like tar paper faced (both sides) sheet rock is slid under joists butting up against sill creating gap. The sheet rock is covering the brick. SO..im going to assume their is a 1" gap for brick. Im also thinking the brick is venting into the interior.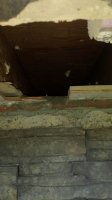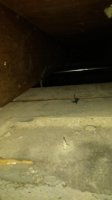 Exterior foundation below. I see no weep holes anywhere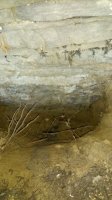 Could it be venting out the sides and not into the cantilever?