Messages

3
Reaction score

1
Points

3
Location
My daughter recently started having problems with her gas furnace. It seems that when it is very cold outside (temps have been in the teens on and off the last few days), the furnace doesn't always cycle on, even though the air temperature in the room is 15-20 degrees what the thermostat is set to.
She has been in the house for 7 years, and the Rheem furnace is at least 12 years old. She has been using a Nest thermostat for the last couple years, and as far as we can tell is working okay; it seems to function properly manually, and, you can communicate with it via smartphone.
The furnace normally seems to run/cycle fine . But it appears that if it is really cold outside, and the furnace cycles off normally, it will not cycle back on without manual intervention. That intervention is nothing more than putting slight pressure on the ductwork right above the furnace itself. See area indicated in attached picture. We happened on to that by chance, but seems to work every time.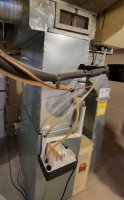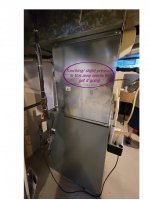 We did a little testing. It is currently 18 degrees outside. By causing the furnace to cycle off, and then a minute or two later, changing the thermostat to cause it to come back on, it does! But, if there is a long delay time before asking it to start (10-15 minutes or so (and maybe things cool down?)), it will not cycle on by itself. The manual intervention (touching the ductwork) seems to work. This test has been pretty repeatable.
Thought about taking the side panel of the ductwork off to see what is behind the 'sweet spot' that we are touching, but there are about 2 dozen hex-screws holding it in place. And, if we got it off and didn't see anything, we're afraid maybe our manual workaround would stop working when we put it back together.
Any thoughts?