I'm a new homeowner that has various DIY projects (unrelated to previous professional trade experience).
I added a new bathroom to my house on the first floor. I plumbed the new bathroom into a secondary drain pipe that was previously used as a washing machine drain leading straight outside without additional fixtures. Currently, It has a washing machine, sink, shower, and toilet all on a 3 inch line connecting to previously mentioned drain.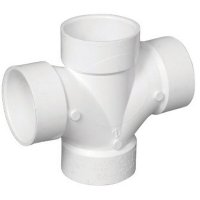 This 3 inch is laying horizontally at the correct pitch, and with more research I found the proper connector would have been the double elongated tee. Toilet and washing machine are connected to the straight run, sink and vent on one side, and shower on other.
I had a plumber come out and scope the whole line because i was having backup issues when I flushed the toilet. It would come up shower and under toilet flooding the bathroom. He found roots that were causing a bit of a damn, he cleared them out with a pressure wash, and I didn't have issues for months until today where I'm back to square one.
He suggested if it happens again to get a high pressure toilet, and before I do so I'm looking for guidance if that will fix the issue, or if I'm back to jackhammering to fix my mistake.
Any advice is appreciated, thank you.