Messages

18
Reaction score

0
Points

1
Location
I am planning a lawn sprinkler system with my existing well, and wanted to prevent cycling of my pump while watering the lawn, so based on research here I went ahead and ordered a CSV kit (PK1A with 10 gallon pressure tank, 45/65 pressure switch with 55 psi constant setting).
The kit arrived today, I guess I'm getting "cold feet" and I just want to make sure that my current well pump setup will work with the CSV I ordered before I install it.
I have attached a copy of my well completion report from December 2003, when the well was drilled (relevant portion attached). A previous owner had the current well installed, so I have limited records, and don't know the make/model of the submersible pump. I do see in the well report that the driller's notes say they installed a 5gpm 3/4 hp pump at that time.
Recently (a week or so ago) I performed a 1 hour long flow test from the spigot at the bottom of my current pressure tank and observed steady flow of 11gpm at 50 PSI, and about 12.5gpm at 43PSI. This is consistent with the flow test that done when we purchased the house in November of 2019. As an aside, these flow rates seem to conflict with the pump rating shown on the well completion report, which confuses me a bit. Water was crystal clear for the whole hour with no signs of the flow slowing down during the tests.
My current setup is pretty standard, looks like 1" poly pipe coming in from the basement wall, into 1" pvc, then into a blue 86 gallon pressure tank and then into my filters and conditioning equipment.
Based on the flow tests I am designing my irrigation system for 50 psi and 11gpm.
With all that said, I'm having trouble interpreting the Compatible Pumps/well water depth charts from the Cycle Stop Valves "Typical Applications" webpage at
https://cyclestopvalves.com/pages/pk1a-pside-kick-typical-applications
(image of the chart attached).
Before I take the plunge and install the CSV, I was hoping to get some input from the pros here as to whether or not the CSV I ordered will function properly and safely given the attached info from my well completion report and the above background.
Any input or recommendations will be greatly appreciated.
Thanks!
Well report: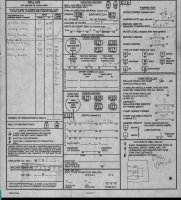 CSV Depth Charts