Messages

1
Reaction score

1
Points

1
Location
Had "Accord Smooth" tub & shower by Sterling Kohler installed. The long side wall of the shower is on an exterior wall. Previous shower was installed on regular bare drywall so I had them take that all out. Sterling insists the unit has to be installed direct to the studs; I understand part of the reason for this is so that if any moisture does get back there, it will have some air space to dry out. Now I find the shower walls are also installed directly onto the paper facing of the insulation! It is literally touching the back of the shower wall.
I am worried that moisture could wick right into the paper - especially that seam running between the tub and the shower walls. Even though Sterling says it is only the thickness of a credit card, between the water constantly running down that wall, splashing up into the seam (or over the top), wicking, cleaning, pressure, humidity, and all that steam day after day, it seems like a recipe for disaster. I don't need any condensation forming from outside either.
So what do I do for insulation? I have 6" studs, currently with R-19 fiberglass batt. I feel like it should be something rigid, to avoid the possibility of it contacting the shower wall anywhere.
The guy at The Home Depot says to use 2 sheets of R-10 Owens Corning pinkboard, which are 2" thick each, leaving 2" of air space. Or would it be better to use 1 sheet of R-10 pinkboard and 1 sheet of R-7 pinkboard to save a half an inch, then cover it with cement board? Or just compress the insulation a little that's there now, and cover that with cement board (between the studs)?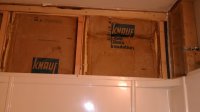 Or use sprayed foam? Or ??? Sterling doesn't have a clue.
The facing of the insulation has a flammability warning saying it must be covered with gypsum board which I just tore out...or some material to meet code; I don't see the acrylic wall as qualifying.
The front shower wall seems fine.
The back wall (2nd photo) just backs up to the dining room, but also has insulation (I assume just for noise reduction) - again, right against the shower wall. Should I just tear all that out?
Last edited: