Messages

12
Reaction score

0
Points

1
Location
Hi all,
Remodeling my bathroom with a "Bootz" alcove tub (steel porcelain enameled -
link
) and having an issue with the bath tub flange being bent where it sits on the ledger. I've spread self leveling compound on the floor and the tub sits nice and level now on both the styrofoam support and side apron. The issue now is, when I look underneath the tub from my cut-out in the adjacent room, I can see the flange where the the tub sits on the stringer is not touching all the way through the length of the board. The stringer is flat and level - it looks like the tub has a small bow in it (about 3/8" - see pictures). Any recommendations on what I should do? I feel like it needs to sit on the ledger nice otherwise the weight isn't distributed evenly/correctly and it's going to be a problem in a few years.
1) I could just shim it, or separate my ledger into two separate boards (one with a slight lean to accommodate the bend) but then I'm worried my accompanying shower surround won't sit right (
link to tub surround
) with this bow/warp.
2) Can I somehow force it to bend back? Could crack the enamel this way though.
3) A bit of a PITA to return it, especially if the rest on the shelf are the same or worse.
I still need to dry fit the shower surround, I suppose I'll try that first before trying anything drastic?
Thankful for any advice you guys can give.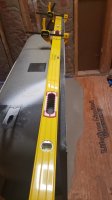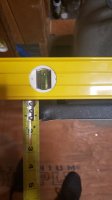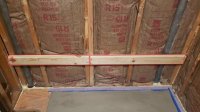 Last edited: